My current focus as an herbalist is empowering clients by sharing my love and passion of herbal medicine making and creating high quality hand-crafted herbal products that heal and pamper at the same time. I am available for teaching engagements and private lessons, holistic wellness consultations and private yoga. Scroll down to purchase and view apothecary products, service offerings and a wonderful collection of artisan crafted Self Care Touchstone Faeries. Your shopping cart will be waiting at the bottom of the page.
Kaleidoscope Naturals
You asked for it~you got it! FULL OF GRATITUDE for your continued support for over 25 years! This time tested hand crafted salve is made with all organic and wildcrafted herbs and organic oils. I am inspired and FRESH batches are being made continually AND new products are in the works! Place your order TODAY for your FRESH jar of salve.
Shipping prices are calculated for domestic US orders ONLY. International customers, please be in touch!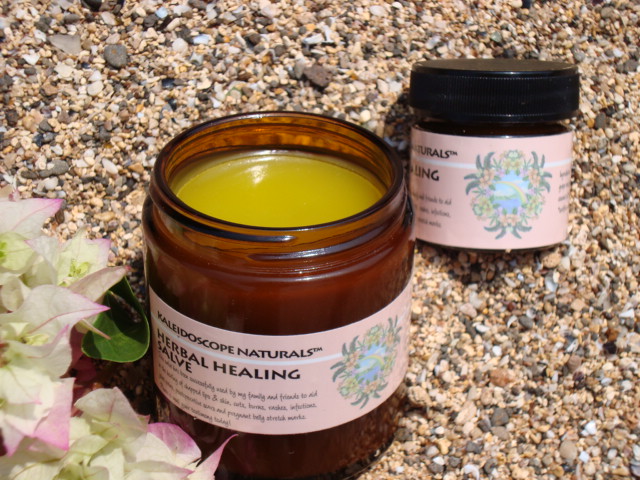 Organic Hemp & Herbal Healing Salve
This is Kaleidoscope Naturals' premier product that launched in 1996! Kaleidoscope Naturals' signature salve is an herbal blend of astringents, demulcents and antiseptics. I recently had a review of the unchanged pricing…with rising costs of shipping and raw materials, I have finally had to raise the prices on my labor of love salve. I am eternally grateful for the community of wonderful customers that have been supporting the production of this truly magical product for all these years. Over the past 25+ years, this product has been used on chapped lips, rough gardening & mechanic hands, burns, mango rash, sunburn, surfboard rash, eczema, psoriasis, stubborn skin infections, joint pains, rheumatism, cuts & abrasions, mosquito bites, post-operative melanoma scars and stretch marks.
Ingredients: Comfrey leaf, Calendula flowers, Oregon Grape root, Burdock root, Yellowdock root, White Yarrow Flowers, Olive, Hemp seed and Coconut oils, Non GMO Vitamin E, fine quality Essential Oils and Beeswax
(all herbs are organically grown, pesticide free or ethically wildcrafted)
30ml amber glass jar $12.00
4oz amber glass jar $40.00